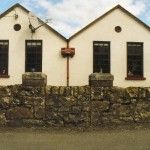 Children of the parish have taken their first steps in learning in this school since 1881 and today in 2012 "the windows of wonder" are still being opened for them in many ways.
Today's pupils are involved in very special and interesting projects in addition to their regular work:
Green Flag. This project involves educating the pupils about our environment.
Active School Flag. This project promotes a physically active school community.
Digital School Award. The school is a winner in the area of integrating computers and learning.
Modern Languages Initiative. The senior classes have started to learn the French language.
Write a Book Project. Pupils are involved in this project organized by Clare Education Centre.
Feile na hInse.Ta an scoil ag glacadh pairt i bhFeile na hInse i mbliana.